What information do I need to endorse my check?
In order for a mobile check to be accepted, you must endorse the check with the following information:
"For TBFCU Mobile Deposit Ony"
Account number for deposit
Member Signature
This information is placed on the back of the check and must be legible in image to process.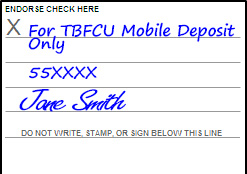 This answer has been viewed 1697 times.
Related Questions