Checking
Checking
Everyone manages their money in different ways. So why would we have only one type of checking account?
Find the right checking account that will make your life easier. Plus, with Shared Branching you'll have access to over 5,000-shared branches and 27,000 ATMs across the country.

Tampa Bay FCU Smart Start Checking Account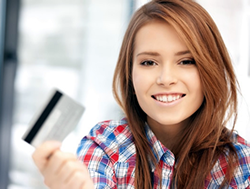 A Tampa Bay FCU Smart Start checking account for members 15 to 22. Start them early by giving them financial responsibility. Don't you wish you knew then what you know now?
From flared jeans to flunked tests, most of our adolescent blunders bear little consequence on our everyday adult lives. But some things, like bad money habits, can stick with us for decades to come and aren't so easy to shake off. A teen checking account with a debit card can help steer kids in the right direction before spending mistakes become the norm.
If your child is ready for the responsibility, consider opening a teen checking account, and involve your child in the decision-making process so that he or she is equipped to choose an account in the future. Here are some things for you both to think about when evaluating checking accounts for teens.
Parents likely will have to co-sign, but that gives them the ability to access the account, monitor transactions and advise their children along the way. It also means sharing responsibility for fees and any other consequences, so you'll want to find a credit union that keeps those to a minimum.
By utilizing our program, parents are able to help their child establish a banking and credit history while still under their roof. This way, should any problems arise, the parent is there to guide and direct the teen towards making a sound financial decision before managing a college checking account on their own.
Parents are able to monitor the bank accounts and have the ability to set ATM limits, while allowing their teen more and more freedom to make decisions. By opening a checking account for teens, parents are setting their child on the right financial path.