About Tampa Bay Federal

About Tampa Bay Federal Credit Union
After operating expenses and reserve requirements are met, income from loans and other revenue is returned to all members in the form of great rates, lower fees, and a comprehensive selection of financial services. Tampa Bay Federal Credit Union is proud to live the credit union philosophy of "people helping people" for its members and the community.
At Tampa Bay Federal Credit Union, no two members are the same. Blue or white collar, younger or wiser, they all have one thing in common—they work hard for every dollar they earn. We respect that, and show our appreciation in low rates, flexible banking hours and consistent personalized care. When you call or visit one of our branches, we'll guide you through available service options to help you make the best decision for your situation.

Tampa Bay Area Federal Credit Union - Testimonials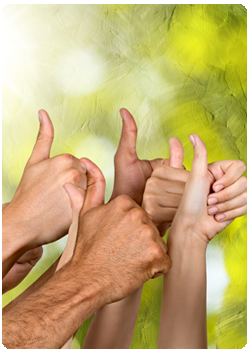 Tampa Bay Area Federal Credit Union - Testimonials
What our members say about our team.
I'm writing this letter to let you know how much I appreciate one of your employees. Her name is Zenissa Rodriguez…. One day ( Out of Know where ) Zenissa called just to check on me and to see how I was doing. THIS WAS ABOVE service ! This was someone who wanted to make sure that I was happy with my loan decisions…..She saved me $200 a month by combining my loans !! WOW ! As a 29yr employee of the City of Tampa and a man that believes in going that extra mile to help people, not because it is my job, but because I really feel that EVERYDAY I can make a difference in someone's life in a positive way. It reassured my faith in people AND the commitment of MY CU for my well being and not just their profit. I can assure you my commitment to MY CU is the same. So PLEASE tell her thanks from Denise and myself. SHE IS TRULY A ASSET TO THIS CREDIT UNION. Thanks for listening. Please respond to let me know that you received this letter.
Thanks again,
Tracy and Denise
---
I would like to take this opportunity to express my experience with Gabe. First Gabe has helped me many times and his professionalism is second to none. He explains things and does what he says is going to do in the time frame given.
Recently I refinanced my vehicle and then we decided to get a new vehicle. Gabe stuck with me as we negotiated the price with the dealership and worked it up where we were able to get the car we wanted. It was nice to go to the dealership and not sit with the finance manager and know that we had the financing in place.
Gabe also emailed me in the morning questioning a transaction which happened to be fraud, I docu-signed the proper paperwork and within 2 hours the transaction was reversed and money in our account (over $990)
As a long time member – we normally don't come into the office and do everything electronically but with Gabe it was such a pleasure to deal with someone so pleasant…Thank you!!
Sincerely
T. Hoelzer, member since 1993
---
I just wanted to thank your Nebraska branch for always giving fast and friendly service. I needed to make a deposit for my Mother who banks in Texas and I was able to do it via share branching. The process was very easy. I have gone to credit unions that almost make you feel criminal lol, but I love TBF, so happy I became a member!
Ms. Burnett, Member since November 2015
---
I have to tell you that in my many years of banking I have found VERY few people like Candice Carswell. I loved it when you opened a branch in Riverview and I have to tell you she is an absolute pleasure to work with. I feel so comfortable going to her with any issue and she is always to wonderful to talk to and happy to help. I went through a rather stressful time last year and she was both compassionate and helpful.
You are so fortunate to have her…and come to think of it so are we!
Ms. D. Tinker
---
Anabel, Thank you for your help this morning dealing with the unauthorized payment in my checking account. You were a big help and set me at ease through the whole process. I just checked my account and the funds, plus the insufficient charges, have been credited to my Tampa Bay Area Federal Credit Union account.
Mr. Meng
---
James was extremely friendly and went out of his way to make me feel comfortable. Thank you.
Mr. White, member since 2004
---
Compliments to Vanessa for the great service she provided me in the teller line. Great service!!!
Darrin D, member since March 2013
---
Thanks to Mr. Mejia at the Ybor Heights Federal Credit Union office for his caring attitude and knowledge when I applied for a car loan down payment. I didn't want to take money from my IRA account, for that is my emergency savings. I was worried about being able to get the loan because I haven't applied for one in a long time.
I spoke with Eddie in the call center and he also was positive and helpful to me, answering all of the many questions I had. He even called me after hours to tell me the loan was approved (what a relief) and I should make an appointment with a loan officer.
I met with Mr. Mejia who worked out the re-payment plan for me, completed all of the paperwork in a timely manner and printed the check for me to take to the dealership. In working with these two professionals I felt I was blessed with the best.
Cora L, member since 2002
---
Jody at Tampa Bay Area Federal Credit Union is amazing, so incredibly helpful and kind. She didn't judge me and let me cry when I was losing it. Jody's kindness and compassion meant the world to me during this time as I had not gotten the same response from others that I was dealing with, and because of Jody, I will never bank anywhere else. Jody was not just a banker, but truly made a difference in my life!
Wendy E.
---
Thank you very much for all you have done for me. I wish I could clone you and put you at all the locations I visit!
Gary H.
---
I just wanted to take a moment to thank you for your excellent service yesterday in opening my new account. You made the task a very pleasurable experience.
Ron B.
---
SaveSave